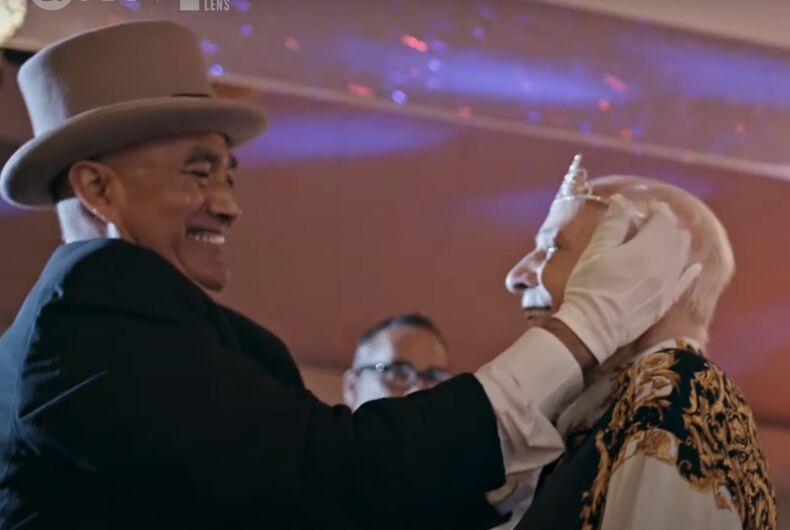 Senior Prom is about queer elders finding happiness, confidence, and desire in a world "where they just don't feel that there's room for them," filmmaker Luisa Conlon told LGBTQ Nation.
Check out the original story here: LGBTQ Nation.
It is impossible not to smile while watching the PBS documentary Senior Prom. The story of an annual prom held for residents of the LA LGBT Center's senior apartments, the film, released during Pride month, is 14 minutes of pure, unadulterated queer joy.
Dolled up in their absolute best, the senior center residents dance the night away, free to be their whole and complete selves in a way that many of them were not when they were younger. Throughout the film, the subjects also share their stories of love, loss, coming out, and the obstacles they overcame to find acceptance.
Directed and produced by award-winning filmmakers Luisa Conlon and Jessica Chermayeff, Senior Prom is revolutionary in its portrayal of aging while queer and shows that doing so can be filled with happiness, confidence, and desire.
"I truly have never been at a party that full of love and fun," Chermayeff told LGBTQ Nation. She hopes the film helps LGBTQ young people see that it doesn't only get better, but it also gets more and more fun.
Seeing queer seniors, she continued, can play a deeply important role in young people's ability to envision themselves getting older. "I've never known anybody who has been a lesbian over 50 my whole life," she said. "It allows you to imagine your own future."
Through the film, the subjects also speak openly about sexual desire. One interviewee discusses how good it felt to be turned on for the first time after coming out at age 50. Another talks about the first time a girl stuck her tongue in her mouth.
"A lot of the feedback we've gotten from the older adult community is just how exciting it feels to see their sexual expression reflected back to them," said Conlon. "There's so much in the media that's ageist and relegates [seniors] to having their lives be over, and for so many, especially in these queer inclusive spaces, it really feels like their life is beginning in a way."
Many of the seniors in the film talk about either skipping their high school proms completely or else being forced to go with someone of the opposite gender. But this is not only an issue of generations past.
While times have certainly improved, LGBTQ youth continue to be banned from proms throughout the U.S., so much so that the youth-led social change nonprofit Do Something created a national Map of Prom Discrimination in 2019. The map tracked incidents in each state, as well as students' personal stories of discrimination.
The problem is large enough that the ACLU even has a "Know Your Prom Night Rights" guide available to LGBTQ students. The prevalence of prom discrimination even inspired a hit 2016 Broadway musical turned 2020 Netflix film, The Prom, about a lesbian teen being banned from an Indiana prom.
"Continuously shocking to us," said Conlon, "is that we're having these conversations with people in their mid-90s and you're talking to kids now who are 17 or 18 who don't feel welcome, who are living in both conservative and non-conservative spaces where they just don't feel that there's room for them."
This shared cross-generational experience is one reason the filmmakers are eager to get the documentary in front of students.
"I think there's going to be something really special about connecting the experience of looking at people who are much older than you and saying they did so much work, we're doing so much work, and there's still so much work left to do," Conlon said.
While that work is of course far from over, Senior Prom provides hope and says that if you find yourself forced to miss out right now, it doesn't mean you'll miss out forever.
"Whether it's your first kiss or the first time you held hands or got too drunk or smoked a joint," said Chermayeff, "whatever [those firsts are] in high school, being able to do that and be seen for this person that you are maybe sexually, maybe in your gender expression.. It's really incredible to see people do that later in life. Not just because of the sadness of they couldn't when they were young, but to just have arrived at 'I'm doing it now.'"
⭒
Check out the original story here: LGBTQ Nation.
⭒
⭒
⭒
Fun Fact: A study published in 2019 titled "Disintermediating your friends: How online dating in the United States displaces other ways of meeting" found that 65% of gay couples met through dating apps. That doesn't mean it's always a good experience, though! This is why we highly recommend premier dating sites like Gay Dating Solutions and My Gay Match.
My Gay Match is a new gay dating site that focuses on matching gay men not only on demographic information but a unique personality measure developed by a psychologist. All members are personally confirmed and carefully screened by their staff to prove that they are real. If you're looking to find a warm and meaningful connection with interesting and caring singles this is the site for you. The gay dating website is currently offering a free 30-day trial.