LGBTQ
News
Posted by
Joseph
on November 27, 2021
626 views
---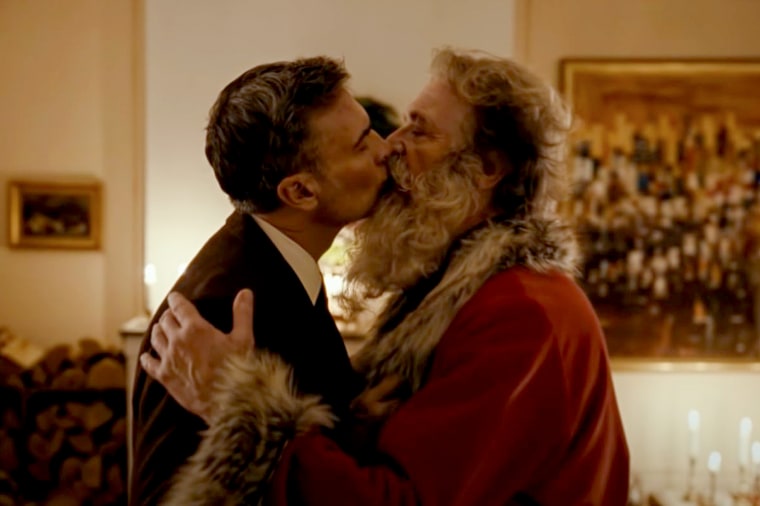 The four-minute ad titled "When Harry met Santa" has been produced to mark 50 years since the decriminalization of homosexuality in Norway.
Norway's 375-year-old postal service, Posten Norge, this week has released a festive commercial ahead of the holiday season with Santa Claus getting a boyfriend.
The popular image of Mrs. Claus helping out at the North Pole has been dropped to show a more inclusive perspective this year.
The four-minute clip titled "When Harry met Santa" — a light-hearted reference to the 1989 movie "When Harry Met Sally" — has well-known Scandinavian actors Johan Ehn and Terje Stromdahl, respectively, playing the lead roles.
Check out the original story here: NBC Out.
The couple meet when Harry spots Father Christmas delivering presents to his home. They gaze across to each other before Santa disappears up the chimney. The clip continues to show the annual meetings between the pair as Santa delivers more gifts. Before each fleeting visit Harry carefully selects his outfits and sprays himself with cologne.
Eventually Harry is seen writing a letter to Santa saying, "All I want for Christmas is you." In the final scene, the couple kiss in a loving embrace.
The ad has been produced to mark 50 years since the decriminalization of homosexuality in Norway. The country has some of Europe's most progressive LGBTQ legislation, with the Gay Travel Index consistently ranking Norway as one of the most gay-friendly places in the world. Civil partnerships have been legal since 1993 and LGBTQ people able to serve openly in the military since 1979.
The clip has quickly garnered international attention with Canadian Member of Parliament, Randall Garrison, tweeting he was breaking his "no Christmas before December rule" to thank Norwegian Post for their "strong and moving message of inclusion." The ad on YouTube has been viewed more than 600,000 times in just three days.
Norwegian Post tell NBC News their aim was to "show love has no limits" and reaction within Norway so far has been "overwhelming." No decision has yet been made on if there will be a follow up to Santa's love story next year.
▿
Read more at: NBC Out.
▿
▿
▿
Gay dating can be challenging. Most single gay men turn to gay dating apps to help them find a partner, only to discover they are missing a crucial piece of the puzzle: personality compatibility. It's one of the most important ingredients of attraction, yet it's not even a small consideration in most dating apps.
Fun Fact: A study published in 2019 titled "Disintermediating your friends: How online dating in the United States displaces other ways of meeting" found that 65% of gay couples met through dating apps. That doesn't mean it's always a good experience, though! This is why we highly recommend premier dating sites like Gay Dating Solutions and My Gay Match.
My Gay Match is a new gay dating site that focuses on matching gay men not only on demographic information but a unique personality measure developed by a psychologist. All members are personally confirmed and carefully screened by their staff to prove that they are real. If you're looking to find a warm and meaningful connection with interesting and caring singles this is the site for you. The gay dating website is currently offering a free 30-day trial.
Tags: #BigBankChallenge #BohemianKissChallenge #EqualityActJapan #StopAsianHate 12 Dates of Christmas 2020 Olympics Aaron Schock Adam Castillejo Adam Rippon addiction ageism Aging AhTave AIDS Aime Wichtendal Alaska Alex Morse Almost Love America's Next Top Model American Medical Association Amy Coney Barrett Annise Parker Antes Que El Mundo Se Acabe Anti-Asian Violence Anti-LGBTQ ANTM anxiety Aptima HIV-1 Arizona Armie Hammer astrology At-home date Atlanta Atlanta Black Pride Atlanta GA Atlanta Nightlife Atlanta Pride Atlanta Pride Run Atlanta's Queer History Bicycle Tour Austin Swink Austin Texas Austin TX Backpacks for the Street Basel Abou Hamrah BFI Flare Bisexual BLACK GAY MEN Black LGBTQ Atlanta Black Lives Matter Black Love Bohemian Rhapsody Boston Boston MA Boston Nightlife Brian Sims Broadway bully Bullying California Call Me By Your Name Canada Capital Pride Capitalism Cason Crane Celebrity News censorship Chemistry Chemsex Chicago Chicago IL Chris Evans Christian proselytizing Christianity Christmas Christmas commercial Christmas movie Christmas Movies Chucky Circus of Books civil unions Cody McCook Colorado Comedy coming out commentary compatibility Confidence Congress conspiracy theory Conversion therapy CoronaVirus Court Vox COVID COVID-19 Covid-19 vaccine Cubbyhole NYC daddy Dallas Dallas Gay Bars Dallas Gayborhood Dallas Texas Danica Roem Daniel Harding Daniel Howell Date night dating dating advice Dating Apps Dating Red Flags dating rut dating tips DC Pride Dead to Me Denver Depression discrimination Disney Documentary Dolf Pasker Dolly Parton Domestic Violence Donald Trump Donna Price Drag Race drag racing Dustin Lance Black election Election 2020 Election Day Elite Employment Entertainment Entertainment news epidemic Fabio Fasoli Family family gatherings Film Finding True Love First Date First Date Etiquette first date ideas first date tips Flirting Tips Flirty Dancing Florida Fort Lauderdale Franklin Graham Freddie Mercury Garrett Clayton gay gay asian gay asian men Gay Atlanta Gay Austin Gay Bars NYC Gay beaches Gay Boston Gay Boston Nightlife Gay Chicago Gay Christmas Gay Couple Gay Couples Gay Culture Gay Dallas Gay Dallas Nightlife gay dating gay dating advice gay dating app gay dating apps Gay Dating Red Flags Gay Dating Solutions Gay Dating Tips Gay DC gay discrimination gay film Gay Florida Gay Fort Lauderdale Gay Health Gay Holiday Movie Gay Houston gay kiss Gay Love Advice gay marriage gay marriage proposal gay men Gay Miami gay midlife Gay Mountaineer Gay Movies Gay New York Gay nightlife Gay Nurse Gay NYC Gay Panic Gay Pride gay relationship advice gay relationship tips gay relationships Gay Santa Gay Scene gay seniors gay sex gay singles Gay Soldier Gay Travel Gay Twitter Gay Washington DC Gay Wedding gay weddings Gay Widower Gays Over COVID gaysian Gen Z Generation Z Georgia Gert Kasteel Ghosting GLAAD GOP Gorsuch Greater Houston LGBTQ Chamber of Commerce grindr Guy Vandenberg Gym Gays Haaz Sleiman Hallmark Halloween Hate Crime HBO Max Health HGVT HIV HIV prevention HIV stigma HIV treatment HIV vaccine HIV/AIDS hobbies Holi-date Holiday Film Holiday Movies Holidays Hollywood Holyoke Homophobia hooking up hookup hookup culture Hot Vax Summer House Hunters Houston Houston Texas Houston TX Hulu Ian Jordan Indya Moore Instagay Instagram intersex Intimacy Intimacy coach Iowa Iowa caucus isolation It's A Sin Jake Gyllenhaal James Bushe Japan Jaymes Vaughan Jayson Conner Jeffrey Newman Jennifer Tilly Jewish Jewish persecution Joe Biden Jonathan Bennett Josef Salvat Jussi-Pekka Kajaala Justice Ruth Bader Ginsburg JVN Jwan Yosef Karamo Brown Kristine Stolakis Lady Gaga Lesbian lesbian couple Let It Snow LGBT LGBT Austin LGBT Travel Guide LGBT-Free Zones LGBTQ LGBTQ Asians LGBTQ Atlanta LGBTQ Austin LGBTQ Boston LGBTQ Chicago LGBTQ Dallas LGBTQ DC LGBTQ discrimination LGBTQ employees LGBTQ Family LGBTQ Film LGBTQ Film Festival LGBTQ Films LGBTQ flag LGBTQ Fort Lauderdale LGBTQ Health LGBTQ History LGBTQ Houston LGBTQ Miami LGBTQ movies LGBTQ New York LGBTQ nightlife LGBTQ NYC LGBTQ Pride LGBTQ retirees LGBTQ retirement LGBTQ Rights LGBTQ Seniors LGBTQ Victory Institute LGBTQ Youth Life Lifetime Lifetime TV Network Linda Warren lockdown London LGBTIQ+ Film Festival loneliness Love Victor Love Wins Luke Evans Male Nurse Malik Brown marriage equality marriage proposal Marsha P Johnson Marvel Marvin Cortes Massachusetts mature gay dating mental health Mexico Miami Miami Beach Miami Beach Pride Miami Florida Miami nightlife Michael Cashman Michael Henry Middle-aged gay men midlife Modern Family mormon Mr. Right Muscle gays music video My Gay Match NASCAR National Coming Out Day Nationwide Conversion Therapy Ban Neil Gorsuch Netflix Netflix Special Nevada New Year's Resolution New York New York City Nonbinary North Dakota Northern Ute tribe Norway Nurse Appreciation Week NYC NYC Events NYC Pride NYC Pride 2021 Oak Lawn Obergefell v. Hodges older gay man Omander Omar Ayuso One True Pairing online dating online dating apps online dating tips online gay dating Online trolls Open Relationship Operation Hyacinth OTP Outfest Outfest LA 2021 Outfest Los Angeles Pan-African Pride pandemic Paper Moons Pat Robertson Pennsylvania Perez Hilton personality Personality Matching personality type Pete Buttigieg Pink Capitalism Poland Politics polyamorous polyamorous relationship polyamorous relationships Pope Francis Pose power bottom Pray Away PrEP pride Pride 2021 Pride Afrique Pride Flag Pride Month Prince Harry profile pic Puerto Vallarta quarantine Queer eye Queer Film Queer Films Queer Holiday Movies Queer Lawmakers Queer Love Story Queer Santa Queer Youth racism Rafa Olarra Rainbow Wave red flags Reddit Relationship relationship advice Relationship Tips relationships religion Rep. Andy Biggs Republican retirement Ricky Martin rom-com Romantic Comedy Ryan Murphy Ryan O'Connell Samaritan's Purse same sex marriage Same Sex Relationships Same Sex Wedding Same-Sex Couples Same-Sex Kiss same-sex marriage same-sex marriage ban Santa Claus Schitt's Creek Score Miami Score Nightclub Scott Evans Scott Wiener Section 28 self isolation self-care Senior Gay Dating Senior Gay Men senior gays Senior Prom Seven Summits sex Sex and Intimacy Sex Education sex life sexual identity sexual preference sexual racism sexuality short film Shy Gay Guys Single All the Way single gay man Single Gay Men Single Gays Single Young Gays social distancing social isolation social media Social Security Somerville South Florida sports Stonewall Stonewall Riots straight men Super Bowl ads Super Bowl commercials Super Bowl LIV Supreme Court Switzerland Syfy Syria Tan France Television Tennessee The Boys in the Band The Center on Colfax The Christmas Setup The Eternals The First The Thing About Harry Threesome throuple TikTok Tom Daley toxic gay relationship toxic masculinity toxic relationships Transgender Travel Travis Shumake true love Trump administration Turner Free TV series Tweets Twitter Unconditional Love United Methodist Church US economy US Supreme Court Valentine's day viral news viral video Virginia Washington DC Web Series Wedding When Harry met Santa Workplace workplace discrimination World AIDS Day World Pride Young Gay Guys young gay men Youth YouTube