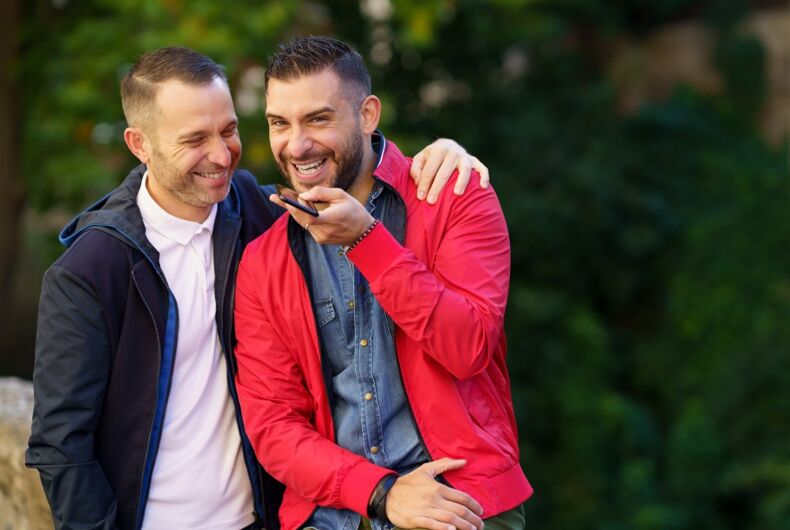 There's a reason why men with "gay voices" are stressed out about it.
Gay men who believe that they sound gay are more likely to be worried about discrimination, a study found, and gay men were more likely to be worried about this than lesbian women.
"Sounding gay reflects common stereotypes associated with gay men that are still seen as 'negative,'" said Fabio Fasoli of the University of Surrey, the lead author behind the study. "For a man, sounding gay implies not conforming to the norm of sounding masculine and heterosexual."
The study, published last month in the British Journal of Social Psychology, surveyed straight and gay people and asked them about what they thought about the differences between the way straight and gay people talked and asked the straight people about their aversion to being around gay people.
They found that straight people who believed that they can tell who is gay or straight based on their voices were more likely to have discriminatory attitudes towards gay people, especially towards gay men.
Surprisingly, straight people who thought that "gay voice" is immutable – that is, that it's a deep difference between gay and straight people that can't be changed – were more likely to have discriminatory attitudes towards gay people.
The researchers also found that gay men and lesbians who believe that they sound gay were more vigilant about how they present themselves and others perceive them and reported more stress around that vigilance.
Straight, gay, and lesbian people were all more likely to believe that gay men have more of a distinct voice than lesbian women. Gay men are more likely to think that their voices sound gay and were more likely to say they were vigilant about how they sound than lesbian women were.
But, the researchers suggested, gay men might be more likely to link their gender presentation with their sexual orientation when asked about it. A lesbian might talk about her gender expression in terms of gender, while a gay man might be more likely to talk about his gender expression as an extension of his sexual orientation. That is, a gay man who believes he doesn't sound like straight men might say that he "sounds gay," but a lesbian woman who thinks she doesn't sound like a straight woman may say that she "sounds butch."
Fasoli said that this might be a subtle form of discrimination since straight people are judging gay people by the sounds of their voices even if a gay person has never said that they're gay.
"I am aiming to continue studying people's experiences and ways of coping with stigma due to the 'gay voice' stereotypes," said Fasoli. "This will provide us with important knowledge to be used in interventions, policies, and equality training."
.
Check out the original story here: LGBTQ Nation.
.
.
.
Have you found the right one, or are you still searching?
Join a gay dating site where you can meet single guys from any town or city. Rely instead on Gay Dating Solutions to do the work for you! Don't get fooled by free offers made by other sites. Gay Dating Solutions is offering a FREE 6 month promotion ABSOLUTELY no strings, request for credit card numbers, etc…it is the only site that is truly free to join!
Sign-up now: www.gaydatingsolutions.com
Download our mobile apps: https://appurl.io/jd0jaqp0
Like us on Facebook: www.facebook.com/GayDating101
Tweet us: twitter.com/GayDating101